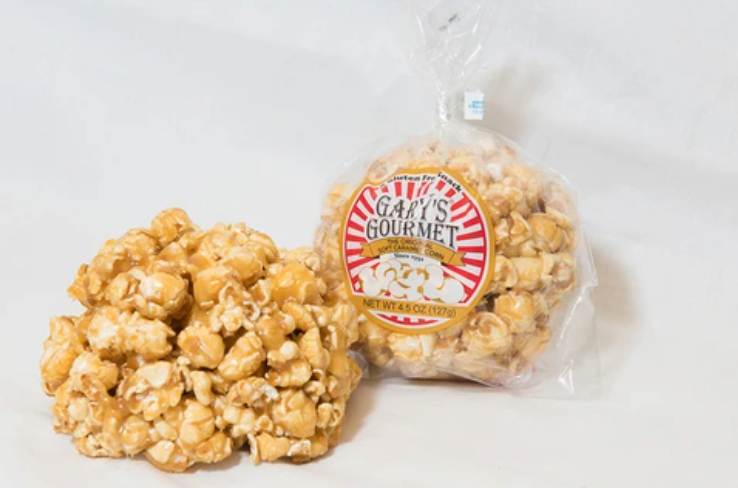 Caramel-coated popcorn is a classic snack and an old-time favorite. If you've ever sung "Take Me Out to the Ballgame," chances are you've indulged in this tasty treat. April 6th is National Caramel Popcorn Day, and while you should certainly buy caramel popcorn to celebrate, also take a moment to learn about this quirky holiday:
What is caramel popcorn?
Popcorn is a versatile snack, and the United States happens to be the largest consumer of popcorn in the world, tucking away billions of quarts annually. Popcorn can be buttered, coated in chocolate, or even hung as garlands!
Caramel popcorn combines the rich sugary goodness of caramel with the light, crunchy texture of popcorn. The result? A flavor contrast that stops you dead in your tracks. As if that weren't enough, caramel popcorn can also be dressed up to cater to decadent tastes. When it's topped with nuts and chocolate, you just won't be able to stop munching!
The Cracker Jack
The practice of combining molasses and popcorn has been around for a couple hundred years. But it wasn't until the invention of the Cracker Jack that the flavor combination really took off. Frederick Rueckheim and his brother Louis, German immigrants living in Chicago, were the ones to invent this classic ballpark snack. They coated their kernels in molasses and nuts, and voila - the Cracker Jack was born!
The Cracker Jack skyrocketed to fame through the help of the 1893 World's Fair and entertainer Jack Norwalk's 1908 hit, "Take Me Out to the Ballgame." Ever since then, it's been a part of American food culture. Vendors began selling the snack on the streets and in storefronts, and eventually it made its way to carnivals and fairs. Even today, it is popular carnival fare.
The World of Caramel Popcorn Today
Today, the caramel popcorn market is filled with options. From small boutiques to convenience stores, you're likely to find a bag of caramel popcorn just about anywhere. Despite this, most Americans primarily associate Cracker Jacks with baseball, and caramel popcorn is a popular snack at ballgames. You can even join in Jack Norwalk's popular tune during the seventh-inning stretch. In modern baseball, it's customary for spectators to join in, stand up, and sing along!
This April 6th, try out a batch of fresh caramel popcorn and let the waves of nostalgia roll over you. Caramel popcorn can be enjoyed on-the-go, but it is best shared in large quantities with friends and family. 
How to Observe National Caramel Popcorn Day - Buy Caramel Popcorn!
Now that you know all about the history of National Caramel Popcorn Day, it's time to celebrate the occasion with the tasty treat itself. Whether it's for you and your family or your large retail chain, Gary's Gourmet Caramel Corn provides the perfect snack to cure any sweet tooth.
Since 1991, our family-owned business has been supplying quality caramel popcorn of all kinds. We have a wide array of fresh options to choose from, so you'll find something delicious no matter what your tastes are!